Huawei has just lost the license to Android. Since Honor is a sub-brand of Huawei, we think that Honor will also be affected by this decision. Honor has just announced the Honor 20 Pro. 
Honor 20 Pro is set to be launched by July 2019 in India.  The Honor 20 Pro is an attractive smartphone, that offers high-performance HiSilicon Kirin 980 along with plenty of RAM to back it all up. It also has enough storage by all modern means.
So, without much further ado, let's get started:
Note: For the simplicity of the reader, we have divided this post into different sections. Feel free to skimp through certain sections if you feel like it!
HONOR 20 PRO What's Inside?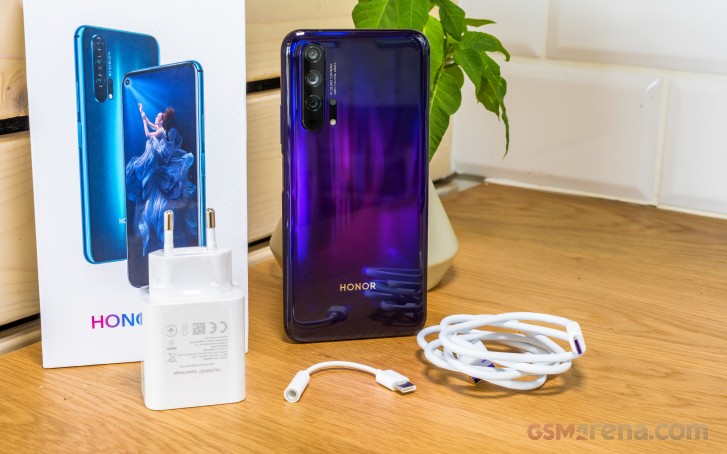 Inside the box, The Honor 20 Pro comes with only the bare basics stuff like 3.55mm to USB Type-C adapter, a power brick, and a Type-C cable. There are no bundled earphones that you usually get with a flagship Honor smartphone like this.
HONOR 20 PRO DESIGN
Honor smartphones have always been the trendsetter with flashy design. This is continued by this year's smartphone too. The front of the smartphone is completely made of screen. The bezels are not the smallest but still we get the 2019 vibe.
Earpiece and front camera :
Like in most premium smartphones in this category, the earpiece is housed on the top bezel. There is also a punch-hole camera on the top left corner of the smartphone, this gives an interruption-free media consumption experience.
Security and Power button :
There is also a fingerprint sensor on the side of the display and placed where the thumb usually rests. The sensor also doubles up as a power button. I personally loved this implementation of the fingerprint sensor than the traditional back fingerprint scanner.
You can also unlock the smartphone using the face unlock option which worked seamlessly during our tests.
Color variants :
The Honor 20 Pro comes in two color variants: Phantom black and Phantom Blue. We got the Phantom black model from the company as a review unit and mind you, this is no ordinary dull black like we used to see. The color changes from black to purple to blue and it looks so much cooler than just a plain color.
According to Honor, the official description of the back panel goes like this: "HONOR 20 PRO's all-new holographic design creates subtle patterns and highlights that shine and move alongside different lights with multi-dimensional reflections". I may not know much about the multi-dimensional reflection and stuff but I really loved the back panel design and the way it changes with different lighting conditions. It looks so much ahead of it's time!
General aesthetics :
The camera bump of the Honor 20 Pro is more protruded than similar premium smartphones in this category. This makes the smartphone wobbly when kept on a table. The Honor 20 PRO is not at all slippery in hand even though the back is made of glass.
HONOR 20 PRO DISPLAY
Although most other smartphones in this price range have adopted the OLED display tech, the Honor 20 PRO is still stuck in the FULL HD+ LCD display even though it is more expensive. I'm not complaining, the FULL HD+ LCD display is perfectly fine for daily use but at this price range we would have like a more expensive OLED display tech.
The colors are vibrant as expected by a FULL HD+ display, there is not much color shifting. The display also gets pretty bright during normal indoor use but still not sufficient enough for comfortable use outdoors.
STORAGE & PERFORMANCE
Honor P20 PRO comes with latest and greatest SOC offered by HiSilicon. With the latest 7nm Kirin 980, the smartphone crunches through everything you throw at it. Still, it's not as powerful as the Snapdragon 855 but the average user will not find any major performance dip.
The Kirin 980 also has the new GPU Turbo 3.0 and this makes gaming on the smartphone feel like you are rolling on butter 😊. PUBG mobile ran perfectly on our smartphone with no hiccups or framerate dips.
HONOR 20 PRO Benchmarks and Tests :
We ran benchmarks on the Huawei Honor 20 PRO using Geekbench 4. The smartphone scored 3285 for single core and 9720 for multi-core which is quite decent and expected by the Kirin 980 SOC however the Huawei Mate 20 Pro with 3336 and 9756 for single-core and multi-core scored a tad higher than the Honor 20 Pro.
The Honor 20 PRO doesn't have a micro SD card slot. But that ain't no problem. The 256GB of storage included with the Honor 20 Pro is enough for average to heavy users but if you are power hungry user who plans to keep all your 1080p or 4KMovies, MP3 files and APK files on the internal storage you might want to rethink again before buying the Honor 20 PRO.
If you want to squeeze out a little bit more performance at the expense of the battery, you can enable the Performance Mode on the Honor 20 Pro.
That brings us to the next section:
HONOR 20 PRO BATTERY LIFE
Most top of the line models in 2019 models, now come with 4000mAh battery and Honor 20 Pro follows the suit even though it is not a top of the line model. Still, the battery life was below my expectations with just 6hrs of screen on time (medium-light usage).
In its place with the 4200mAh battery, the Mate 20 pro managed to last 8hrs of screen on time, and that extra 2hrs of battery life is not because of surplus 200mAh battery but due to the OLED display on it.
There is fast charging support with the included 22.5W charger. Juicing up the battery to 50% only takes around 30 minutes. Wow, that seemed like a dream a few years back. Whatever the Honor 20 PRO lacks in the battery life department can be forgotten by this charging speed as you can always plug it for some time whenever you are running too low on power.
HONOR 20 PRO CAMERA
The Honor 20 PRO comes with a 48 MP f/1.4 main camera with OIS and laser autofocus like Xiaomi's budget Note 7 Pro except with no OIS. There is also an 8MP f/2.4 3X lossless,5X hybrid zoom with OIS telephoto lens and a 16 MP super wide angle,f/2.2,117-degree field of vision sensor for wide angle shots. Lastly, there is also 2MP macro, f/2.4 lens for well…macro shots.
So that includes a total of 4 cams on the back deck. The main camera is the Sony IMX 586 sensor used in most phones like the famous OnePlus 7, Asus Zenfone 6, etc). The default mode shoots pictures in 12MP quality. You can try changing it to 48MP quality but there isn't much difference between 12 MP and 48MP even when viewed on a larger screen. But the 48MP quality can be very helpful when editing in Photoshop or Lightroom.
The smartphone also offers a 3X telephoto lens for 3X lossless zoom. There is also 5X hybrid zoom which basically means that it combines optical zoom with software processing.
Now coming to the macro lens, the Honor 20 Pro is the first phone with a dedicated macro lens onboard. This dedicated macro lens will allow you to take impressive macro close-ups like small ants and another minute stuff like that. I personally love to take macro shots and is a huge fan of it. The only caveat is that it is only a 2MP sensor.
There is also the usual AI-supported night mode features but its generally a hit or miss and not as close as the Night sight mode of the Pixel series.
There is also a 32MP front-facing punch hole camera. I didn't check the selfie camera personally but one of our TechnoRivals team members tried it and he found it to be slighter softer.
Speakers & Audio
Coming to Audio hardware, there is no headphone jack (no surprises there) and has only a single speaker setup. Also, as I have mentioned before, the phone comes with 3.5mm to USB Type-C adapter. The sound coming out of the speakers are loud and audible but the moment you cover the grills with your hand, the audio becomes muffled.
HONOR 20 PRO FULL SPECS
HONOR 20 PRO PRICE
The Honor 20 Pro is priced at Rs.39,999($575) for the 8GB/256gb Pro model and Rs.32,999($475) for the regular Honor 20 whose battery is 250mAh smaller and the memory is also small.
VERDICT
Concluding, the HONOR 20 PRO is a perfect smartphone by Honor which is a mix of performance and looks. The cameras are great. The smartphone is also affordable. However, the lack of headphone jack and the mediocre battery life might be a deal-breaker for you. The smartphone doesn't offer anything new and is backed by huge competition. Nevertheless, this smartphone is a perfect pick for anyone wanting a smartphone under Rs.40k or under $600.