Dell has released the all-new Latitude 7400 2 in 1 in 2019. The Latitude series which debuted in 1994 was the business lineup of laptops by Dell. Dell released the Latitude series to compete with the likes of the Lenovo Thinkpad, HP EliteBook series, etc.
Dell's new 14-inch laptop has an impressive battery life which stands out from the crowd. The laptop comes with the Intel 8th gen Whiskey lake-U processors. It also has a Proximity sensor fitted near the IR windows hello webcam for a feature called Dell Express Sign that basically locks the device whenever you are more than 5 feet away from the laptop. We will talk more about this soon in this review!
Dell also claims a 24 hr battery which when I first heard seemed like an utter lie.  As I have mentioned earlier, this laptop is meant for business users and IT professionals and not for personal home use simply because of its costly.
So without much further ado, let's get started:
Note: We got the 78 Wh maxed out model of the Dell Latitude 7400 2-in-1 for this review! You can find the full specification at the end of this post.
Build & Design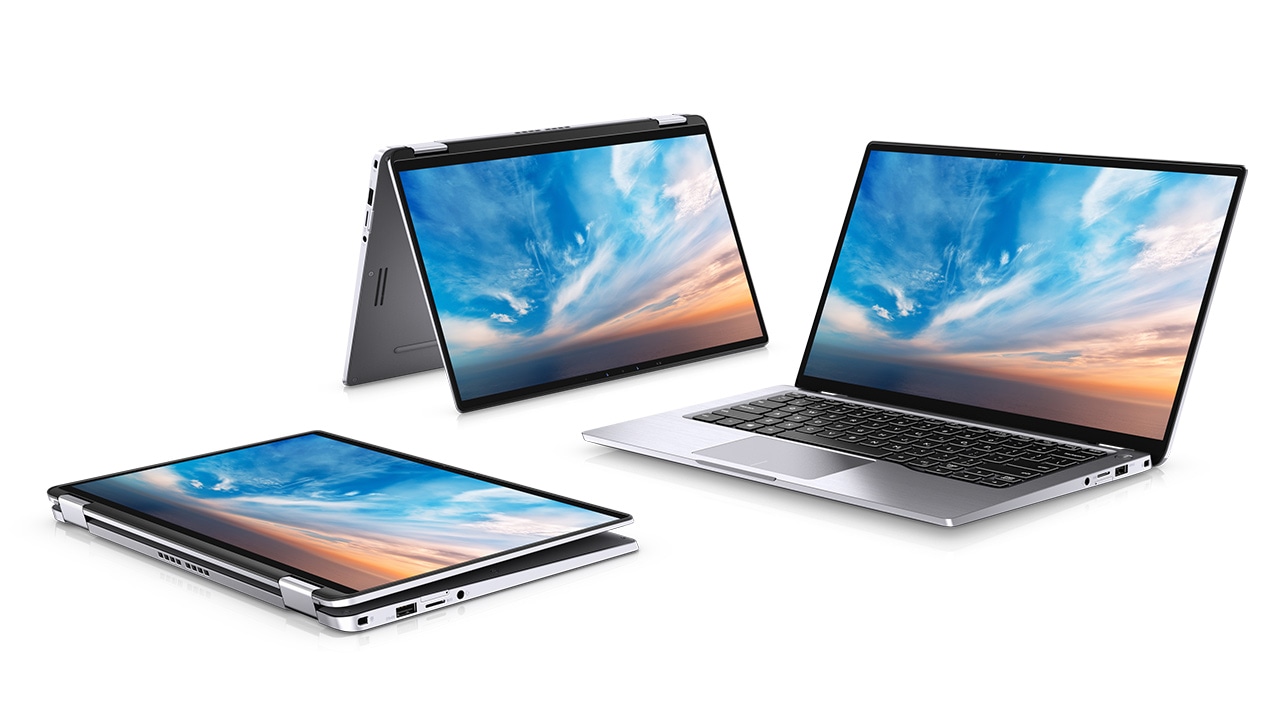 According to Dell, the Latitude 7400 is the most compact business laptop currently available in the market. It's just under 15 mm in thickness. Even though the laptop is chunky doesn't fit well in the thin and light category, Dell covers up with the chunkiness by offering a wide array of ports. The extra chunkiness will also allow the laptop to get a certain level of rigidity.
The exterior of the laptop is made with silvery aluminum and it gives a more premium look and builds quality to the laptop. Like the latest XPS 15 2019, Dell has managed to shrink the top bezels to just 0.6mm (contains a webcam) while the side bezel is just 0.4mm.
During our tests, the fans remained quiet during most of the time. Even during the time when we ran benchmarks on the laptop which is an issue. Dell also ships with proprietary software for controlling the power management and fan speeds.  We tried the performance mode and the fans started spinning up much more frequently than before.
The Dell Latitude 7400 can be configured for a fingerprint sensor fitted inside the power button and a smart card reader within the chassis.  The laptops weigh at around 1.36 kg.
Display
The Dell Latitude 7400 2-in-1 comes with a 1080p display which further improves the battery life. The display is protected by Corning Gorilla Glass 5. The laptop's display is extremely low power for squeezing maximum life out of the 78 Wh battery.  The display is rated at 300 nits, but our review model only managed to emit 280 nit's Of brightness during the tests.
The laptop felt uncomfortable to use outside under the direct sun, we were able to get away with using it near a well-lit window side.  The display comes with 1920 x 1080 and is a touch screen one which supports Super Low Power mode.
Security with Dell Express Sign-in
Dell proudly introduces the new Express Sign-In with the Latitude 7400 2-in-1 "as the only PC that senses your presence". This new Sign-In method which when setup to work with Windows Hello automatically locks out your laptop the moment you step out from it.  
It can also do the reverse like whenever you come close to the laptop it automatically wakes the screen and logs in. This technology is made possible by a proximity sensor present on the top bezels alongside the IR-based face unlocking the camera.
Though the Express Sign-in seems futuristic at first glance, it turned out to be quite gimmicky during our tests. It automatically turns off your laptop within three minutes if it can't detect you in range.
Dell Latitude 7400 2 in 1 Keyboard experience
Most businesspeople perform their daily work on a laptop keyboard and they prefer spacious keys and medium key travel. I tested the laptop keyboard even though they were slightly small for my taste, it had a nice springy feeling to it.
The keyboard layout is standard with the arrow keys on the lower right-hand corner and the Print Screen, Home, End, Insert and Delete keys present on the top row near to the function keys. All the keys on the keyboard are backlit with three functionalities built in them: On, Brighter and OFF.
The touchpad of the Latitude 7400 2-in-1 was small due to the compact chassis. Nevertheless, the touchpad was smooth and precise during our tests. It also comes with Windows Precision drivers and supports two, three and four finger gestures.
Ports and Connectivity
As I have mentioned earlier in the review, the latitude 7400 2-in-1 comes with a great array of ports. The Dell Latitude can be configured for a fingerprint sensor fitted inside the power button and a smart card reader within the chassis. 
Along the right side of the chassis, we can see a 3.5mm headphone jack, a USB Type-A, an SD card slot, a lock port, and an optional WWAN uSIM card slot.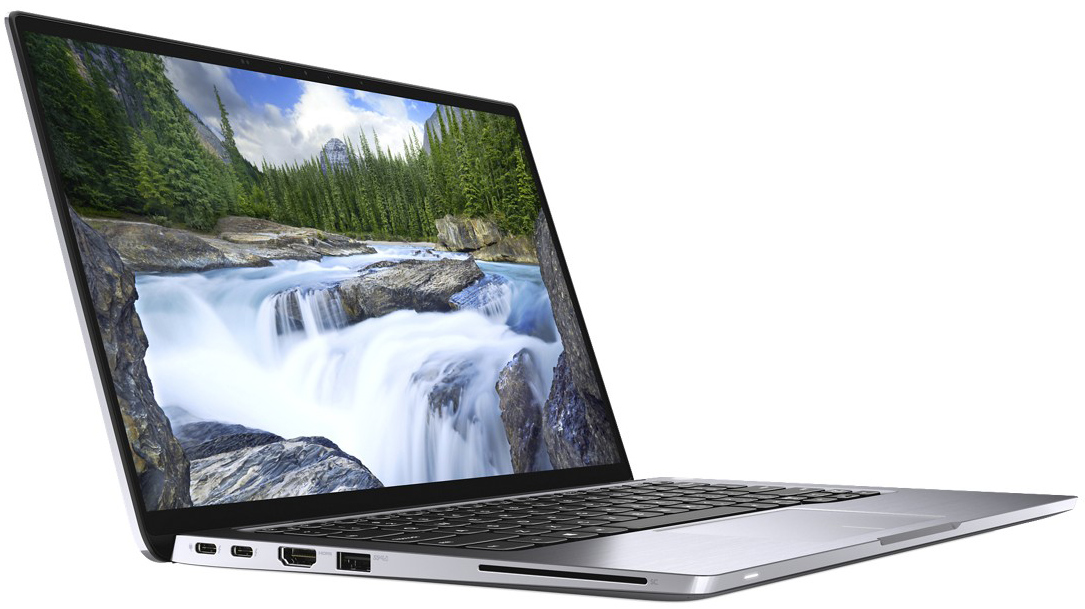 On the left side, there is another USB type-a, a pair of Thunderbolt ports and a dedicated HDMI port for connecting external displays.
Webcam
The DELL Latitude 7400 comes with a 0.9MP camera that supports 720p video recording. We tested the camera and found it to be fuzzy and some areas of the image were overexposed. Even when the HDR capabilities was turned ON, we failed to achieve good results with the webcam. Frankly, we expected a much better camera as the Dell Latitude 7400 is aimed at business professionals.
Audio & Speakers
Dell Latitude 7400 2-in-1's audio is much better than what we get on many consumer laptops. All thanks to the MaxxAudioPro by Waves Enhancement technology.
Turning on the MaxxAudioPro equalizer makes the low-end audio to a pleasing level and makes the lows and highs on an even level.
Also Read: Best PUBG Lite Graphic Settings
When the headphone is connected MaxxAudioPro also gives an option to turn on nx positional audio, which basically uses the front webcam to determine your head position and direct the sound accordingly. Turning your head to the right makes the Waves route the audio to your left channel and vice versa. Thus, nx audio positional gives an illusion that the audio is coming directly from the screen.
Dell Latitude 7400 2 in 1 Battery Life & Performance
We got the maxed-out model of the Latitude 7400 2 in 1 with the Intel Core i7 8665-U whiskey lake CPU with 16 GB of RAM and it nailed most of the tests we ran on it. We tested the laptop using a mix of synthetic and real-world performance to determine what it has to offer in terms of battery life and performance.
Dell Latitude 7400 2-in-1 also delivered promising results in terms of GPU performance even though it doesn't come with a dedicated GPU. However, what made the laptop worth looking at is the impressive battery life it comes with. Dell's website claims that you can get around 26 hrs of battery life out of the laptop. We did our testing and surprisingly the battery lasted for ~ 20 hrs which is very close to what Dell promised.
It was almost the same as that of a Snapdragon 850-powered tablet, the Samsung Galaxy Book 2, while still providing the performance level of a notebook PC by Intel.
Real-world performance :
For real-world performance, we tried loading apps like GIMP and OpenOffice to simulate real-world workloads. The tests are based on PCMark 8, which uses battery of different apps in three benchmarks: PCMark8 Work, Home and Creative. The Dell latitude 7400 2-in-1 reached the first place among many different laptops like HP Spectre x360 13(2019) which has a Core i7 – 8565U, Lenovo Thinkpad X1 Carbon (6th gen) with Core i7-8550U.
While PCMark Work focuses on office workloads like word processing, video calls, and spreadsheets. The Home version focuses on workloads like web browsing and light gaming.
The creative version of the PCMark is the most intensive out of the three. Almost all the tests are CPU and GPU intensive like gaming as well as video and photo editing. We also ran the PCMark 10, it still does well but not as good as we thought. The Dell Latitude 7400 2-in-1 managed a score of 4082 just below the Huawei MateBook 13 (Core i7-8565U).
Cinebench Test :
We also tested the CPU using Cinebench and Handbrake, an open source tool used to convert a Hollywood movie into a format capable of playing in Android tablet. Here also the Dell Latitude 7400 surpassed the Lenovo ThinkPad and grabbed the third position just below Huawei MateBook 13 and Dell XPS 13 9370.
We tried turning on Ultra Power mode in the Power manager software and it didn't do much difference to the score produced by PCMark benchmarks but the score improved by around 8% on Cinebench test.  
Battery Life Test :
Now talking about the elephant in the room, yes, the whopping 78WH battery of the Latitude 7400 2-in-1. We were pretty sure that the battery would last more than a day and guess what…it did. We managed to squeeze out more than 20 hours of power from the Latitude 7400 2-in-1.  We tried looping a 4K video on Netflix on full brightness, with backlit and stuff turned ON to find out how long it lasts. We didn't get much time to undergo several tests of battery life as the battery simply wouldn't die 😊. It would take a full week of testing to determine the exact life. I hope you understand what I meant!
FULL SPECS OF DELL LATITUDE 7400 2-IN-1
Display: 14-inch (1080p) touch
Processor: Intel 1.9GHz Core i7-8665U (Whiskey Lake)
Graphics: Intel UHD 620
Memory: 8GB-16GB LPDDR3 (16GB as tested)
Storage: 128GB-256GB NVMe PCIe SSD (256GB as tested)
Ports: Two USB 3.1 Gen 2 Type-C (Thunderbolt 3, Power Delivery/DisplayPort); Two USB 3.1 Gen 1 Type-A; HDMI 1.4; microSD; optional microSIM WWAN
Camera: 720p HD Camera (user-facing); Windows Hello capable
Battery: 52Wh, 78Wh (78Wh as tested)
Wireless: Qualcomm QCA61 802.11ac (2×2); Bluetooth
Operating system: Windows 10 Pro
Dimensions: 12.59 x 7.87 x 0.59 inches
Weight: 3.30 pounds, 4.08 pounds with charger (measured)
Color: Aluminum
Options: Fingerprint sensor inside the power button; contact smartcard reader
Price: $2,802 (Dell.com) as configured; starts at $2,379
Source: PCWORLD
Dell Latitude 7400 2 in 1 Price & Final Thoughts
The Dell Latitude 7400 2-in-1 starts at around $2379 for the base model. This impressive laptop from Dell surely makes the Qualcomm Snapdragon PC make a run for its money. Most people buy the Snapdragon PC for its impressive battery life. Now that's rivaled by the Dell Latitude 7400 2-in-1 by its impressive mix of performance and battery life. So, should you buy the Dell Latitude 7400 2-in-1? Well, if you are a businessman or IT PRO, that's a definite YES from my part. But if you're someone who is a home user, I would suggest you choose another consumer laptop which is cheaper and offers greater specs.
Dell Latitude 7400 2 in 1 price in India is Rs. 86,014/-
So, what do you think and would you buy the Dell Latitude 7400 2-in-1? Let us know in the comment section below and make sure you share this post with all your friends who are searching for a new business laptop.